Menu
All meals include a fruit, vegetable, milk and optional peanut butter and jelly sandwich.
Monday, Sept. 28
Mini corndogs
Tuesday, Sept. 29
Pulled pork sandwich
Wednesday, Sept. 30
Pancakes & sausage on a stick
Thursday, Oct. 1
Shrimp poppers
Friday, Oct. 2
Ham & cheese sandwich
Covid Decision Tree
For questions concerning whether your child should stay home from school, and for how long, please see the following link from the MN Dept. of Health: https://www.health.state.mn.us/diseases/coronavirus/schools/exguide.pdf
Neck Gator Mask Order
If you are interested in ordering a neck gator mask like the one pictured below, please let Amanda Harris (secretary@immanuelmankato.org or 507-345-3027) know by Oct. 9. If 21 or more people order, the price will be $8.25 each. There are no children's sizes, but you can always add a seam to make it smaller, if desired.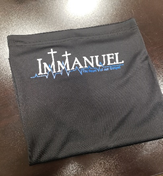 Picture Retake Day
School pictures will be retaken on Friday, Oct. 2. Order forms will be sent home on Friday, Sept. 25.

NWEA Testing
Immanuel students (K-11) will be taking the NWEA MAP tests starting Monday, Oct. 5 through Friday, Oct. 9. The majority of the testing will be done in the mornings. Students will still have some of their regular classes each day we are testing. Please be sure your child eats a healthy breakfast each morning, gets plenty of rest starting 2-3 nights before testing, and stays hydrated.
The results of the NWEA tests will be used to determine areas in which your student may need more help and in areas your student has made good progress.
ILS Athletic Calendar
Come watch our athletes and support ILS Athletics. Check out game times at https://www.immanuelmankato.org/school/ils-calendar/
Congratulations
Congratulations to Grace Busch and her teammates for setting the pool record at Mankato East High School in the 200 Freestyle Relay at their swim meet last night (9/24)! Grace swims with Mankato East through a cooperative sponsorship through the Minnesota State High School League. The Mankato East/Immanuel Swimming and Diving Team won their meet against Mankato West, marking their first win over West in more than 30 years!
CAL Hotel Info
A block of rooms has been reserved at the Best Western Plus, Willmar, for the Fall CAL Soccer tournament in Willmar on October 30 for one night, checking out on October 31. Students/athletes who stay must be in a room with an adult chaperone or adult family member. These arrangements are not made by the school, athletic department, or coaches. Each family is responsible for their own room and payment.
Best Western Plus
2100 US-12, Willmar, MN 56201
Phone: (320) 235-6060
These rooms will be held under the group name Immanuel Lutheran School. Rates do not include state and local taxes. Your guests may contact the hotel directly and ask for the Immanuel Lutheran School block rate when making reservations. The cut-off
date for this group is 9/30/2020.
King suite with pull out sofa bed: $119.00
Double Queen $129.00